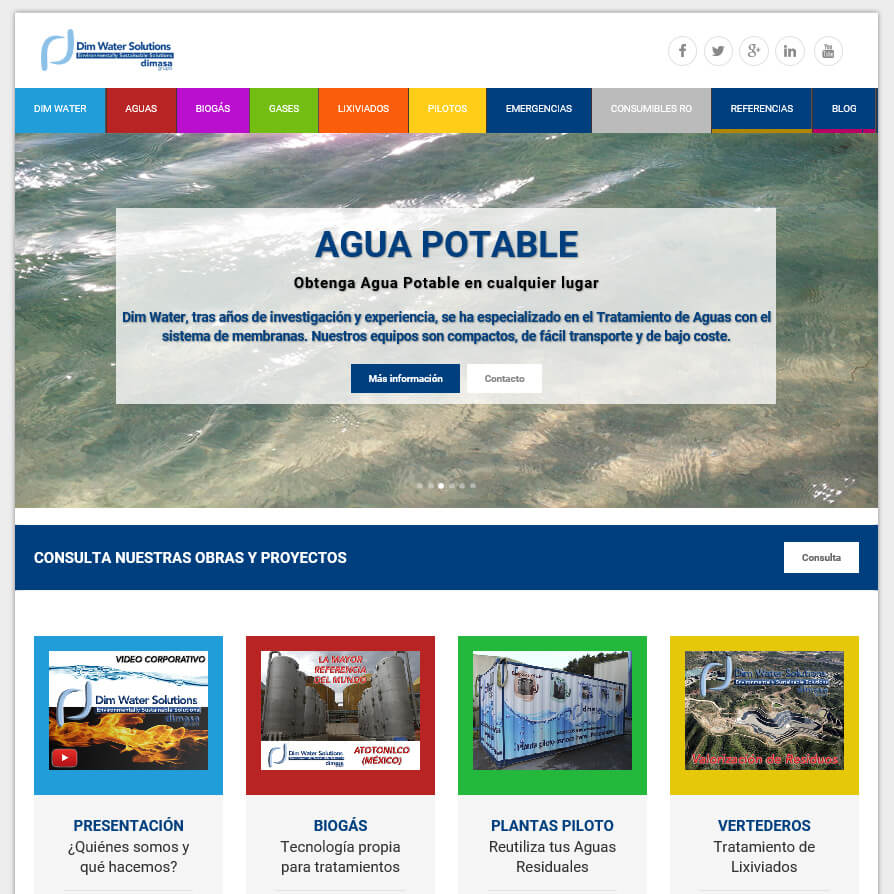 11 Jan

Dim Water opens the year with a new website: www.dimwater.com

From DimWater, company "brother" of Dimasa Grupo, we want to start the year with renewed air, and that is why we present a new website: http://www.dimwater.com/en/.

In it you can learn about our products and services, follow our news through the blog, and be up to date with our references.

All our projects are fully customizable, they work under the concept "turnkey": feasibility study, design, manufacture, delivery, start-up and after-sales maintenance.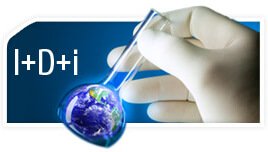 At Dim Water Solutions we comply with the most demanding manufacturing regulations in the sector, and we have 2 international certifications: Quality Management Systems (ISO 9001) and Environmental Management Systems (ISO 14001).
The perseverance for the preservation of the environment and the commitment with the excellence of the founders and their new incorporations have turned us into specialists in the treatment of effluents (water, leachate, biogas, gases …).
WATER TREATMENT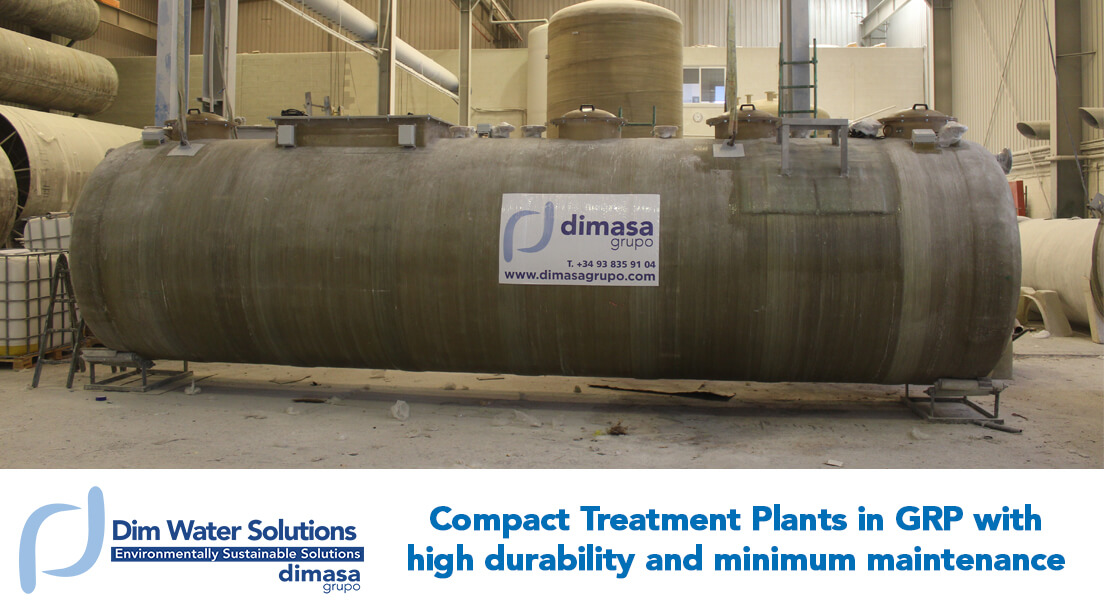 After years of research and experience, we have specialized in Water Treatment through compact sewage treatment plants. Our equipment is compact, made of Polyester Reinforced with Fiberglass (GRP), easy to transport, and are created under the plug & play concept so that its maintenance is minimal.
In addition, we have a wide range in our water line:
BIOGAS TREATMENT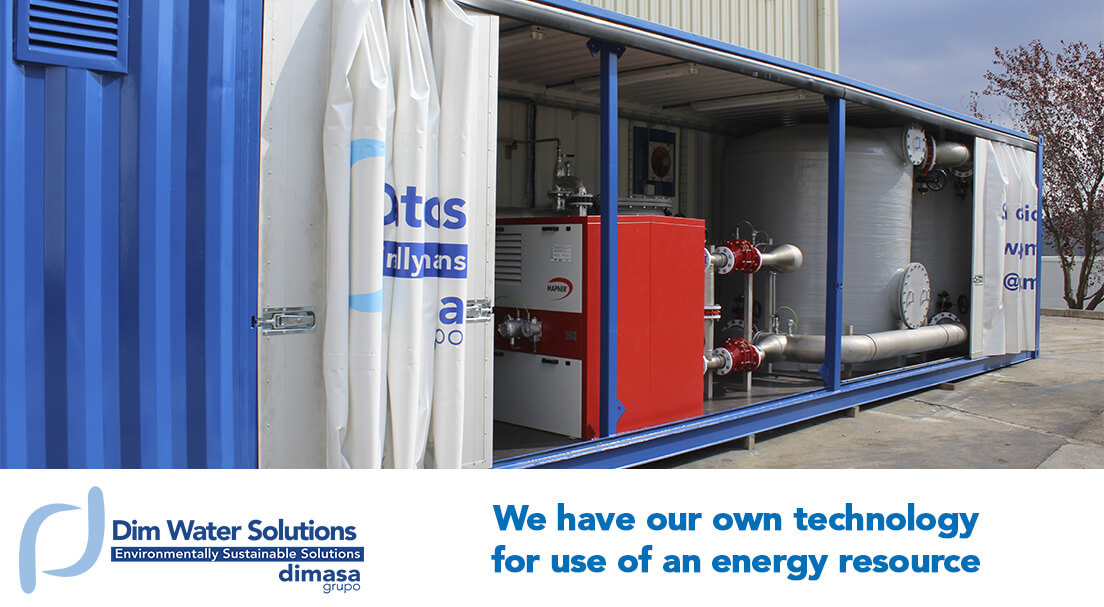 We offer 3 different technologies:
Our business line of Biogas is one of the most successful, both with great work that endorses our experience, and with several presentations for companies as large as Aqualia or FACSA, and recognition in the form of awards:           
AWARD
– Two prizes on cogeneration granted by the magazine TecnoEnergía during the 2012 Fair.
– Cambra 2015 Award, to the Impulse of Innovation, Research and Development, awarded by the Chamber of Commerce and Industry of Terrassa.
REFERENCES
Our biogas cleaning system is key to the efficiency of one of the largest plants in the world, the Wastewater Treatment Plant of Atotonilco (Mexico), according to the Inter-American Development Bank (IDB), which awarded the facility the Prize 360º infrastructures. This treatment allows the plant to self-supply with 70% of the electricity generated thanks to biogas. In addition, at the Lepanto landfill in Chile, we recently delivered our integrated technology in a 40-foot container, with a treatment capacity of 1,000 Nm³/h, which generates 2 MW/h of electrical power.
PROJECTS
Dim Water Solutions participates in the
SMART Green Gas
project developing new technologies to obtain high quality biomethane from urban waste. The objective of the study is to increase the biogas yield and
improve the biogas quality
through a bioelectrochemical system inside an anaerobic digester.
GAS TREATMENT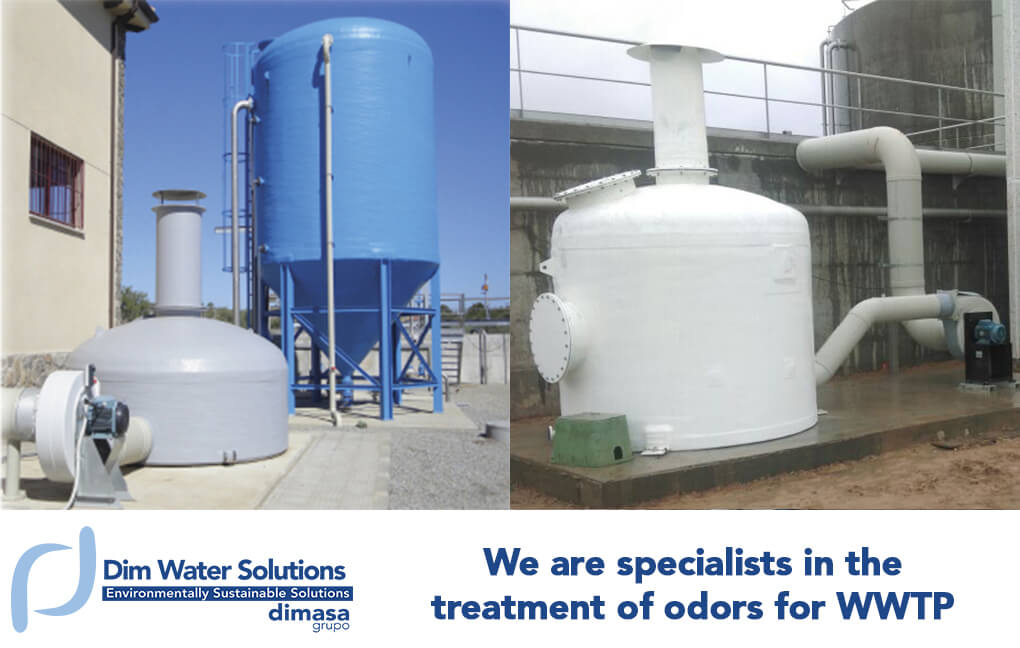 En nuestra trayectoria, son muchas las referencias en Industrias y EDAR relacionadas con el tratamiento de los malos olores procedentes del ácido sulfhídrico, los mercaptanos, el amoniaco y el amonio.
With our experience in the design and manufacture of deodorization plants, we offer 5 different options depending on the needs of the client and the characteristics of each project:
TREATMENT OF LEACHATES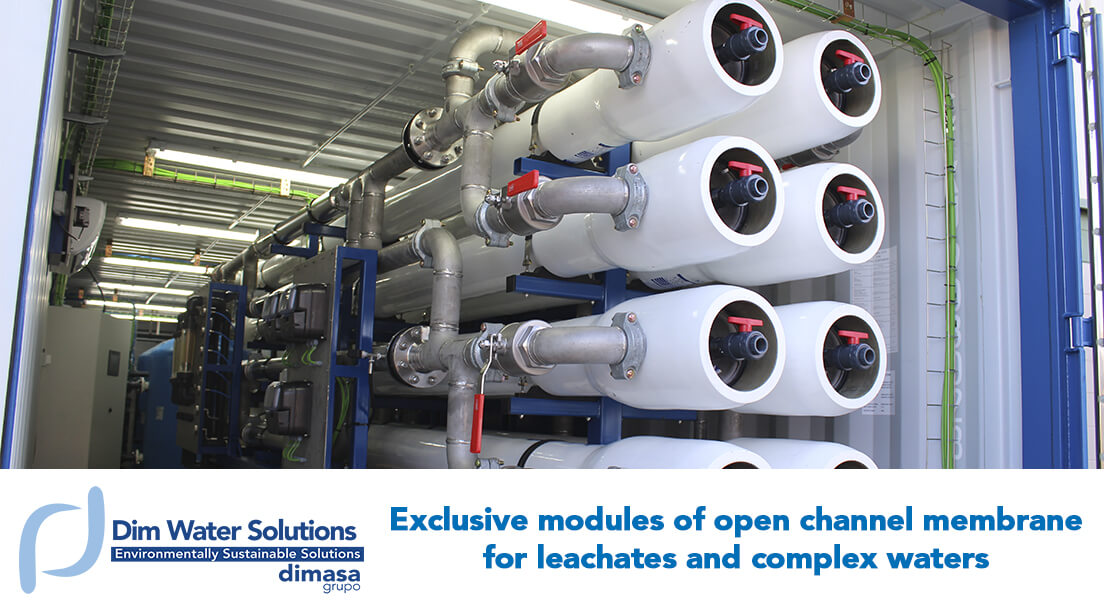 Landfill leachates are one of the most polluted and complicated waters to treat that we can find. That is why in Dim Water we have created special membrane modules to treat leachate and purify contaminated water, based on the premise of the use of open channel modules.
Our extensive experience supports us, as we have great references, as in RECASA (company that is dedicated to treating wastewater from various industries), in which we have designed, manufactured and commissioned an integrated container for water treatment complex.
In addition, we have a reputation that transcends borders, as shown by our international presentations. The last example was in Peru, at the La Molina Agrarian University, where we presented our exclusive system with SPM membranes.
Within this line of leachates, we offer 3 different options:
PILOT PLANTS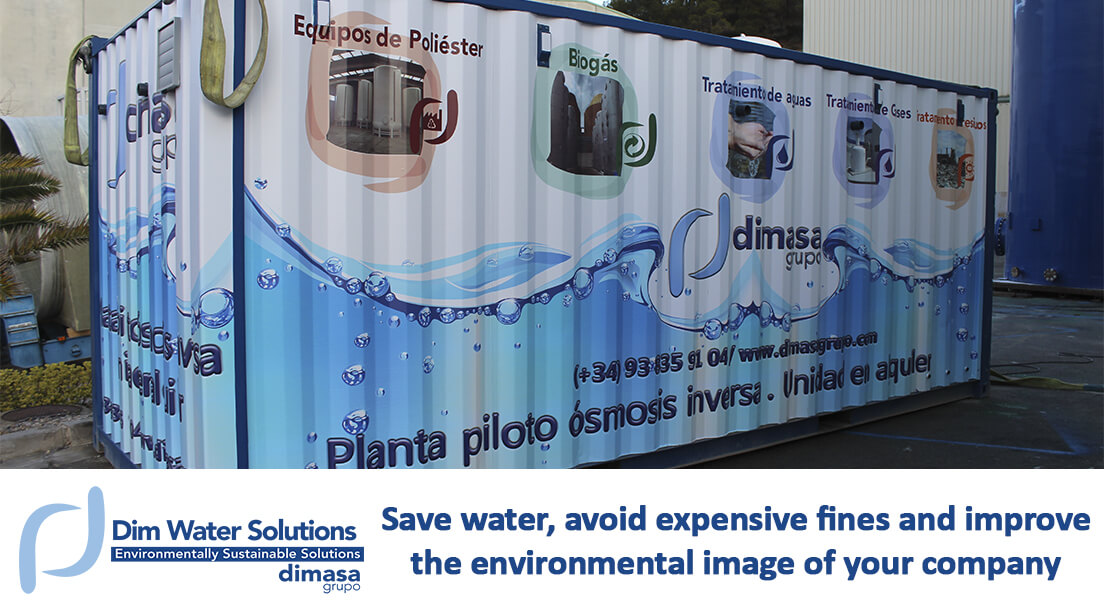 It turns a problem into a new source of resources. With our system you can recover a large part of the water from your waste. The resulting water is of such quality that, in addition to complying with the water discharge legislation, in most cases it can be reused in the process. You can try our pilot plant, we carry out the tests and the viability demonstration of our technology. It will convince you!
We offer different options depending on your needs:
EMERGENCY EQUIPMENT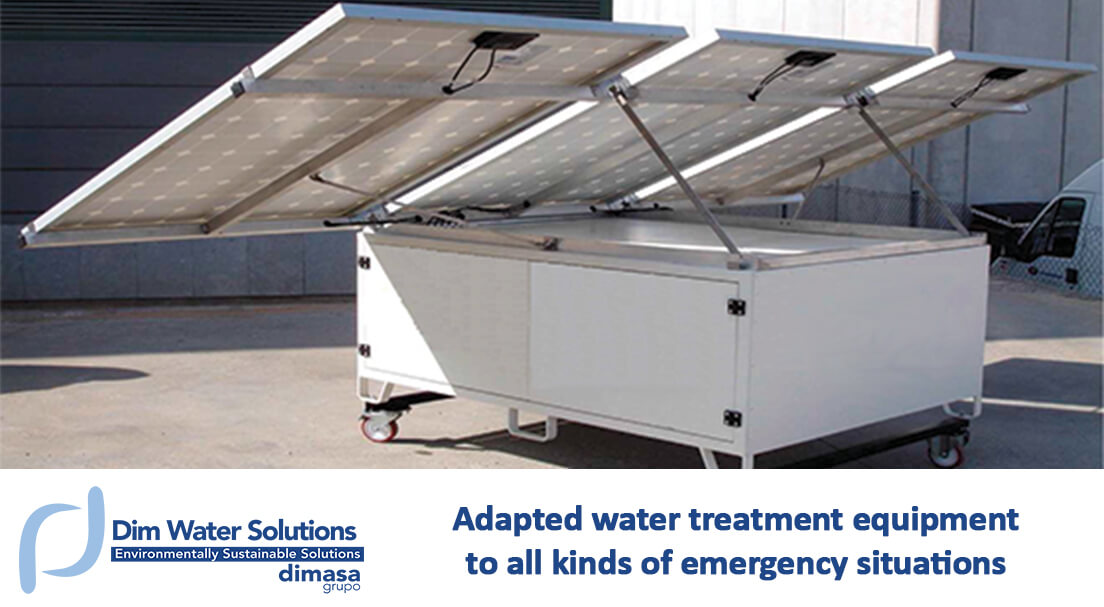 Dim Water Solutions, after years of research, has specialized in water treatment with equipment adapted to all types of emergency situations. Our equipment is compact, easy to transport, and low cost. These systems are ideal for armies, NGOs, and areas that are in emergency situations, as they are suitable for any type of slightly polluted water, even sea water, which gives a wide versatility.
Our offer covers the following solutions:
SUPPLIES FOR REVERSE OSMOSIS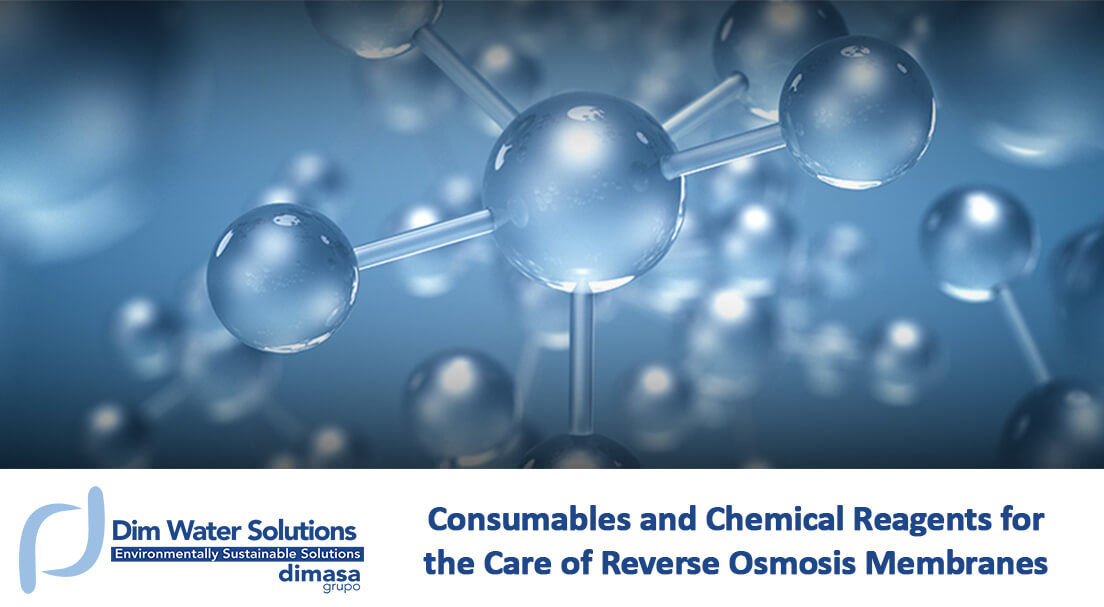 Our experience with reverse osmosis systems has earned us good partners along the way, and that is why from Dim Water we have chemical reagents for the care of the membranes, as well as filtration cartridges. We only distribute what we use, knowing its perfect functioning, backed by years of satisfactory work.
Our catalog of consumables is made up of:
You can expand the information about Dim Water with our general catalog. Now you know us a little better, so we invite you to contact us for your next project. Our prices and impeccable professionalism will surprise and gratify you.
We take this opportunity to invite you to see our corporate presentation video